A Quick Guide for Choosing the Right Surveillance Camera for Your Home or Business
So why should you be concerned about security cameras and lenses not being created equally? How does this impact your specific situation when choosing a video surveillance system for your home and business?
It can be easy to look at the cost of a camera and make that the only deciding factor, but it goes much deeper than that.
When choosing a security camera for business or home, there are important decisions to be made. The first is the type of camera you need. Of course, this decision is application- and budget-based. The lens types each camera uses can also weigh heavily on the decision. Perhaps the area you need to monitor doesn't change much. In that case, you aren't going to need the same type of lens the cameras in a bank or department store require. If the scene is an active one, you may need something more advanced.
While this may sound a little overwhelming, don't get too anxious. The decision is much easier than it seems. Below is a breakdown of cameras and why you should care about those differences.
The Security Camera Rundown
Box Security Camera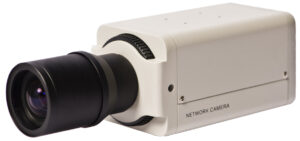 The box camera is the standard camera type and, of course, it gets its name from its shape. Aesthetically speaking, it doesn't have anything extravagant going on, but it's what's inside that counts. For instance, the lens can be customized based on what is needed for the indoor or outdoor application. Despite the misleading primitive design of this camera, fixed lenses and the more advanced varifocal are two of the lenses that can be used. These cameras are thought to be primarily analog, but they are available as IP cameras as well.
Why you should care: Plenty of reasons! This is a common type of video surveillance camera used in residential and commercial indoor and outdoor applications. This also makes it more affordable compared to some camera types. In addition, it's good to have a camera that allows lens customization so the right one can be chosen based on environment and lighting conditions.
Mini Dome Security Camera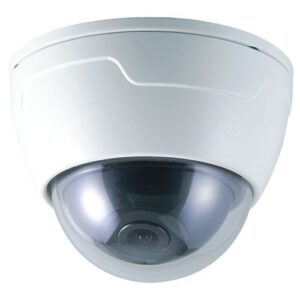 You've most likely seen the mini dome cameras installed in the ceilings of department stores. The overall function is just like any camera; it's the housing that is different. The dome housing is ideal for warehouses, department stores, kitchens and any indoor or outdoor application that could cause the camera to get excessively dirty and dusty.
Why you should care: The mini dome surveillance camera is frequently used in commercial applications. If you own or manage a facility of any type, this is a great way to keep tabs on what is happening at all times. Available in both analog and IP models, the IP models give you better system management and resolutions. However, you have options depending on need and budget.
Bullet Security Camera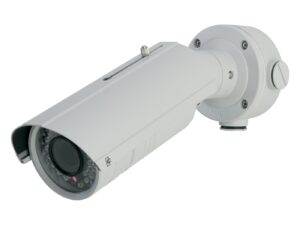 The bullet camera is a type that looks to be straight out of a science fiction film because of its modern aesthetics. These surveillance cameras are also called "IR illuminators." The design of the housing reduces the need for servicing. Plus, these cameras tend to take up a smaller footprint than others. The IR illuminator is the type of camera you want in a low light situation. This camera is also available in analog and IP versions.
Why you should care: The bullet surveillance camera is tough and doesn't require separate housing to protect it from the environment. When looking for the right camera, you may need an IP or analog model that takes up very little space, needs servicing less often, and operates well when lighting may not be optimal.
PTZ Security Camera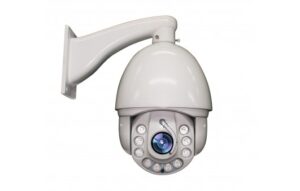 If you think the bullet camera has a bit of a sci-fi feel to it, the PTZ surveillance camera has a higher level of functionality. This is the type of camera that allows you to remotely pan, tilt, and zoom using software or a joystick. Surveillance patterns can also be preset so areas of interest are recorded automatically instead of with manual manipulation. This type of security camera helps you survey a wider area with a single camera versus having a camera fixed on one location. You can even zoom in on specific details in real-time. This camera type is available in analog and IP.
Why you should care: The PTZ camera gives you more control so you can see what you need to see with a single unit. If you prefer to not be at the mercy of a camera that is fixed on one area of interest, then this may be precisely what you need for your home or business.
Quality cameras that keep an eye on your home or business
Choosing the Right Lens
There are two types of lenses used in video surveillance cameras. They are the fixed security camera lens and the varifocal lens. You may remember seeing these mentioned earlier since the box camera is one type that can use both.
But what's the difference?
The fixed lens is a monofocal lens, which means the focal length of the lens is permanently set and can't be changed, so it tends to have a fixed focal point. This leads to your next very important decision: do you choose a narrow-angle camera lens or a wide-angle lens? Of course, the decision depends on what you need the camera to look at.
The varifocal lens allows you to adjust the focal length based on what you need. The PTZ security camera, for instance, uses a varifocal lens because of its motorized controls. You can zoom in and out as needed on an object or area. If you need to get a clearer and more focused image, a PTZ camera with a varifocal lens will make that possible.
Fixed lens applications: A fixed lens is ideal for interior spaces because the lens can't be adjusted, so it has a fixed focal point. Some applications include a baby's room or the family room.
Varifocal lens applications: Cameras with varifocal lenses are ideal for commercial and residential spaces where the scenery will change a lot. Some applications include entrances, gates, garages, parking lots, large spaces with a lot of people, and anywhere where a close shot may be needed to identify a person or vehicle.
Rochester, Syracuse, & Buffalo NY Security Camera Installation
One of the biggest lessons of all is that you don't have to go through the process alone. At SPS Fire & Security, WE LISTEN TO YOUR NEEDS. This helps us make recommendations based solely on what you wish to accomplish with your video surveillance system. We are well-versed in the legalities, technology, and installation techniques that can give you the added security you're looking for.
To learn more, call us at 585-770-0348 or complete our contact form and we will get back to you as soon as possible.